Freakin'
Awesome Questions
WHAT BRAND OF JERKY DO YOU USE?
Because of licensing restrictions and other limitations, we can't disclose our suppliers. However, we can tell you that this is the legendary brand of jerky once used by Greek gods when Broquets were laid upon the graves of their fallen. We can also say that it is made from solid cuts of meat – none of that pressed-and-formed or snack stick "meat in a tube" nonsense.
DO I HAVE TO GET A MUG? CAN YOU DO TURKEY JERKY? WHAT ABOUT VEGETARIAN OPTIONS?
Henry Ford originally offered the Model T in any color a customer wanted so long as it was black. We plan to allow customization and have other products we're looking forward to introducing in the future. Until then, the more you support us, the closer you'll be to your dreams of a tofu Broquet.
HOW ARE THE BROQUETS PACKAGED? DO THEY ARRIVE ALREADY ARRANGED?
We have yet to hear of a florist that can ship flowers pre-arranged in a vase and have them arrive intact. As such, some assembly is required. Each Broquet comes packaged in a handsome, custom-designed tray to protect each flower while a UPS driver kicks the box to your door (just kidding – UPS is pretty awesome). Two trays are placed on either side of the glassware in a discreet, unbranded shipping box. 
Just like real flowers, each stem is a little fragile, so care must be used to remove them from the packaging and place them in the glass (or directly into your mouth). With roses, the bloom is held together by a thread of edible collagen sausage casing, but you may remove it if you wish. Instructions for removing the Broquet from the packaging are included on the packing slip inside each package.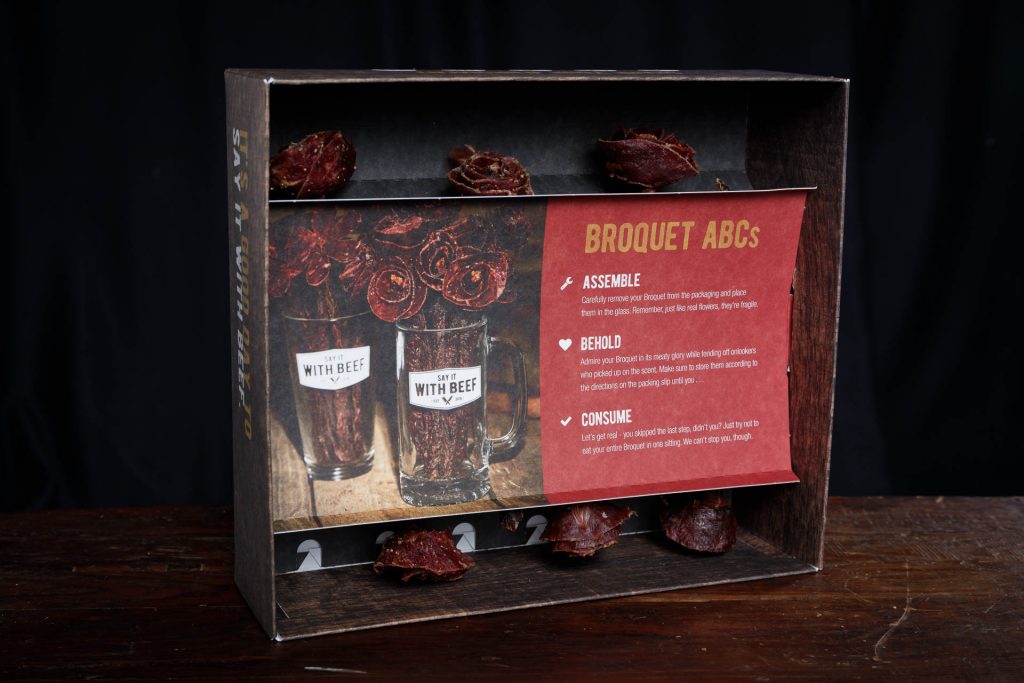 WHAT IF THERE IS A PROBLEM WITH MY ORDER?
Say it ain't so! What happened? We want to make sure that every customer is 118.25% happy with their Broquets, so if something went wrong, let us know using our Contact page so we can make things right.
AAHHHH!!! I MESSED UP MY ORDER! CAN I CANCEL OR MODIFY IT?
Of course! Head on over to the Contact page, select either "Change Order" or "Cancel Order," and let us know what we need to do. However, we know how anxious anyone would be to get their Broquets, so we package and ship them quickly. Please let us know about any changes within a few hours of placing your order or at least before our daily UPS pickup around 3:00 CST/CDT so we can make corrections before it ships.
DO YOU HAVE A CUSTOMER SUPPORT NUMBER?
As much as we would love to chat with you about how tasty our Broquets are, we're just too busy making them right now! We're still a pretty small company with a single support representative, so having a dedicated phone number is a bit beyond our capabilities. Support and orders by phone come with a number of legal, privacy, and quality-assurance considerations that are a bit beyond what we can offer at the moment. Moving forward, we plan on having a toll-free number for support and orders, but for now, drop us a line using our Contact or Social pages.
HOW LONG WILL A BROQUET STAY FRESH?
If the delicious aroma doesn't tempt you and others from devouring your entire Broquet within the first hour of arrival, you need to be sure to consume it eventually. Jerky is considered shelf-stable and will keep from spoiling for several months (generally, close to a year). Each Broquet is packaged in an air-tight bag with an oxygen-absorbing packet for freshness. An unopened bag should be consumed before the 'Best By' date marked on the package. Once the bag is opened, the jerky will remain fresh for 1-2 weeks if kept in a sealed container. If the jerky is left in the open on display, it should be consumed within 1 week, but we
strongly
suggest that it be regularly covered to prevent the jerky from drying out.
WHAT IF I HAVE A FOOD ALLERGY?
Unless you're allergic to deliciousness, we don't want a food allergy to stand in the way of you and a Broquet! Check out the nutrition information linked on our product pages, and after you order, head over to our contact page to send us a message with your order number and what you're allergic to. We'll make sure to clean our equipment before making your Broquet. However, if you are extremely sensitive to cross-contamination, please note that at this time, we do use the same equipment for all of our products. Also, there may be a one day delay in processing these orders to allow time for cleaning.
BROQUET? DID YOU SPELL THAT WRONG? IS THAT A SEXIST JOKE?
Absolutely not to both questions! Yes, they are called BROquets just to be a little witty, and while most of our purchases are gifts for men, we don't discriminate – ladies like jerky, too! Why not pick up something different for that special girl in your life?
DO YOU SHIP TO MILITARY INSTALLATIONS?
Know what our men and women in uniform need? Protein. At Say It With Beef, we support our troops, and to show our appreciation for their sacrifices, we gladly ship Broquets to APO/FPO addresses and domestic bases for free! All APO/FPO addresses will return free shipping by default, but identifying domestic base addresses is tricky. Check out this page for a list of known base addresses. If you know of an address not found on this list, please contact us, and we will add the address promptly. 
Because federal law prohibits anyone except the Postal Service from touching mailboxes or delivering to military bases, all military orders are shipped using UPS SurePost, a joint UPS + USPS parcel service where the Postal Service makes the final delivery. Due to the nature of APO/FPO deliveries, delivery times can range from two weeks to a month in some cases. Also, because APO/FPO shipments are sometimes returned for unknown reasons, we gladly waive reshipment fees and will keep shipping your order until it is successfully delivered.
AM I ABLE TO TRACK MY ORDER?
We know how anxious you are for your delicious Broquet to arrive, so every package has a tracking number that will be provided via email as soon as your order is picked up by UPS. If you placed your order to be delivered on a later date, don't fret – we haven't forgotten about you! It's still scheduled to ship out on time. As soon as your order ships, you'll get a tracking email. Didn't get your tracking email? Make sure to check your junk mail, but if you can't find it, contact us, and we'll gladly provide it for you. Also, please note that your 10-digit order number is not your tracking number. Tracking numbers will start with "1Z3Y669R."
DO YOU SHIP INTERNATIONALLY?
As well as being able to ship to all 50 states and military bases overseas, we are also able to ship to Canada! We have plans to expand into other countries incrementally moving forward, and we'll announce them as they become available. Sign up for our mailing list to stay in the loop! You can even make a purchase if you live internationally but want to ship within the United States or Canada. 
Lastly, we really want to send our Broquets to you in Elbonia,* so if you're interested in placing an order and live elsewhere, shoot us a message so we know what countries we need to prioritize. 
+10 points if you got that Dilbert reference.
WHAT IN THE WORLD IS SUREPOST?
The basic shipping option uses what is called UPS SurePost, and it is a little bit different from standard UPS services. Basically, UPS ships to your local post office, and the Postal Service makes the final delivery. Because of this hand-off, there are a few restrictions regarding SurePost: 
SurePost does not have a guaranteed transit time like the other services, but it generally only takes a day longer than UPS Ground (though it can occasionally take two).
Since transit times can vary with SurePost, the "Delivery Date" feature for placing orders in advance is not supported.
Be aware that SurePost is only intended for residential deliveries. While we do our best to check if an address is residential or commercial, any failed delivery attempts resulting from the use of a commercial address will be the responsibility of the customer.
Unlike other UPS services, we have no capabilities to perform package intercepts, modify the delivery address, schedule a redelivery, etc. for SurePost.
Lastly, it is a violation of federal law for anyone except the United States Postal Service to touch a mailbox. This is why UPS leaves packages on your doorstep. As such, UPS cannot deliver to PO Boxes or military bases – any such addresses MUST ship SurePost. If your mailing address is a PO Box, that's just for the Post office. UPS will happily deliver straight to your door. If you want to ship Ground, use your physical address.
I WANT AN ORDER DELIVERED ON PRECISELY FEBRUARY 30TH AT NOON. CAN YOU DO THAT?
There are two ways to help ensure that an order is delivered on a specific day. First, when you provide the shipping address in our cart, we provide delivery estimates based on UPS' calculations (including our own processing time). If you're ordering at least seven days in advance, use the "Delivery Date" field* at checkout. Pick the date you want your order delivered, we'll put your order on hold, and it'll ship out to get there on time via UPS Ground. 
Please note that while the standard UPS services have a guaranteed maximum number of days in transit, nothing prevents your Broquet from arriving early. In most normal shipping situations, customers consider that to be a good thing. However, when it is a gift you want delivered on a specific day, it makes things a bit difficult, and there isn't really any guarantee that it won't arrive early. Should this happen, our shipping boxes are unbranded, so you can just shove the box under a bed for a day or two. 
*This feature is not available for PO Boxes, FPO/APO addresses, or military bases which must be shipped UPS SurePost.
CAN YOU CHANGE MY DELIVERY ADDRESS, PERFORM A PACKAGE INTERCEPT, OR REDELIVER MY PACKAGE?
For any non-SurePost shipments, we do have the ability to do things like re-routing shipments in transit, change addresses, etc, and we are more than happy to assist. However, many of these services require an additional fee from UPS. These charges are not included in the cost paid for shipping, and and it is up to the customer to pay any additional fees that may be required. 
If a package fails to be delivered and is returned to us, we are charged a fee from the carrier for return service. We are happy to reship your order and waive this fee, but you will be responsible for the cost of a second shipping attempt. If you decide to cancel your order instead, you will be refunded for your purchase minus the cost of the return fee. This applies to any orders which fail to deliver due to providing an incorrect address, a PO Box, or any situation resulting in a return not caused by an error on our behalf.
Join Our Mailing List For Discounts And Updates!